C·Bath – uudenlainen kylpyhuonekokemus Cosentinolta
Päivämäärä: 13.9.2023
C·Bath on Cosentinon uusi tuotemerkki, joka sisältää kaksi erilaista konseptia. The Bathelier on maailmanlaajuisesti tunnettujen suunnittelijoiden luoma ainutlaatuinen konsepti ja C·Bath Studio on Cosentinon oma kylpyhuonemuotoiluvisio.
Keittiö on viime vuosina noussut kodin keskipisteeksi ja sosiaaliseksi kohtauspaikaksi, mutta myös kylpyhuoneella on yhä keskeisempi rooli arjessamme.
Keittiötasojen ja pintojen johtavana yrityksenä jo vuosikymmenten ajan toiminut Cosentino lanseeraa nyt kunnian­himoisen kylpy­huoneille suunnatun C·Bath-tuotemerkin. C·Bath on kokonais­valtainen uudelleen­tulkinta kylpyhuone­tilasta ja se hyödyntää täysi­määräisesti Cosentinon pintojen ja käyttö­tarkoitusten tarjoamaa monipuolisuutta.
C·Bath tarjoaa kokonais­valtaisen ja moni­puolisen kylpyhuone­vision, joka perustuu innovaatioon ja kestävään kehitykseen. Sen avulla voidaan luoda ainut­laatuisia ja omaperäisiä tiloja, joissa taide ja muotoilu sulautuvat yhteen Cosentinon pinta­materiaalien käyttö­kohteisiin, kuten pinnoitteisiin, lattia­päällysteisiin, työ­tasoihin, suihku­altaisiin, pesu­altaisiin ja kalusteisiin.
The Bathelier, ainutlaatuinen konsepti
C·Bath-tuotemerkin The Bathelier on maailman­laajuisesti arvostettujen suunnittelijoiden luoma sarja ainut­laatuisia tiloja ja kalusteita. Se tarjoaa oma­laatuisen kokemuksen räätälöidystä kylpy­huoneesta, jossa yhdistyvät taide, käytännöllisyys ja muotoilu. Tunnetut arkki­tehdit ja suunnittelijat, kuten Remy Meijers, Claudia Afshar, Daniel Germani, Colin Seah ja MUT Design, ovat luoneet tämän kattava valikoiman ainut­laatuisia kylpy­huoneita ja kalusteita.
Tilojen ratkaisuissa on käytetty ainut­laatuisia muotoja, kiehtovia pinta­rakenteita ja geometrisiä muotoja, jotka yhdistyvät toisiinsa saumattomasti, sujuvasti ja veistoksellisesti. Nämä mullistavat kylpy­huoneet hyödyntävät kaikkia Silestonen®, Dektonin® ja Sensa by Cosentinon® ensi­luokkaisten ja moni­puolisten pintojen tarjoamia mahdollisuuksia.
C·Bath Studio on Cosentinon oma visio
C·Bath-tuotemerkki tarjoaa myös Cosentinon luomia kylpyhuone­sisustuksia, joissa on käytetty suosittuja materiaaleja ja pintoja sekä räätälöityjä kylpy­huone­tuotteita yrityksen tuote­valikoimasta. Valikoimasta löytyy seinä- ja lattia­päällysteiden erilaisia laatta­kokoja, värejä ja pinta­rakenteita sekä huolellisesti suunniteltuja ja houkuttelevia lavuaareja ja suihkualtaita.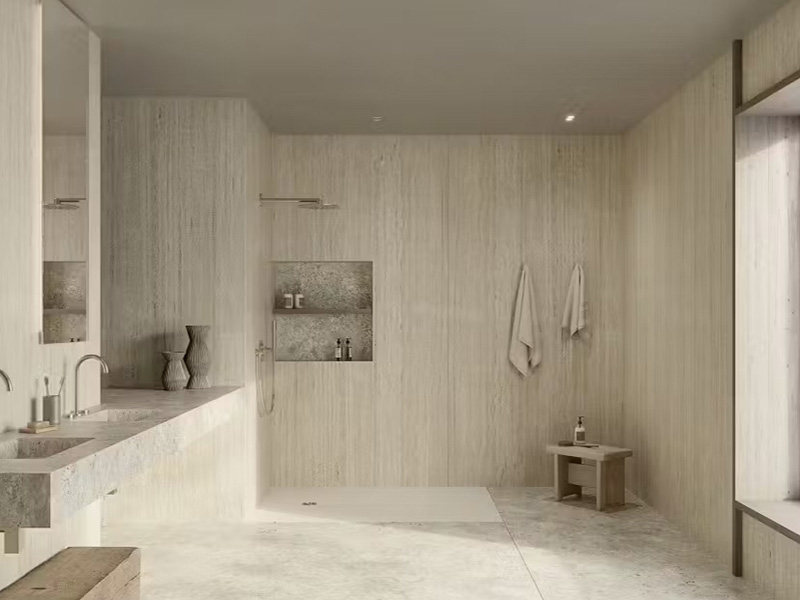 C·Bath Studio sisältää kaikkiin sisustus­tyyleihin sopivia esteettisiä, käytännöllisiä ja moni­puolisia ratkaisuja täydellisen kylpy­huoneen luomiseen. Silestone® tarjoaa kauneutta ja ensi­luokkaisia ominaisuuksia, kun taas Dekton® tarjoaa erin­omaista suoritus­kykyä ja moni­puolisuutta, suuren laatta­koon, Optimma-laattakoon (260 x 100 cm), vain 4 mm paksun Slim-laatta­koon sekä luistamattoman Grip+-pinnan. C·Bath Studio sisältää valikoiman valmiita elementtejä, kuten lavuaarit Elegance, Armony, Evita, Marie, Simplicity ja Reflection, Silestone®-suihku­altaat Wakka, Kador ja Exelis sekä Dekton®-suihkuallas Katräl.