Discover new design possibilities with professional LED's of Eyeleds®!
Päivämäärä: 9.12.2006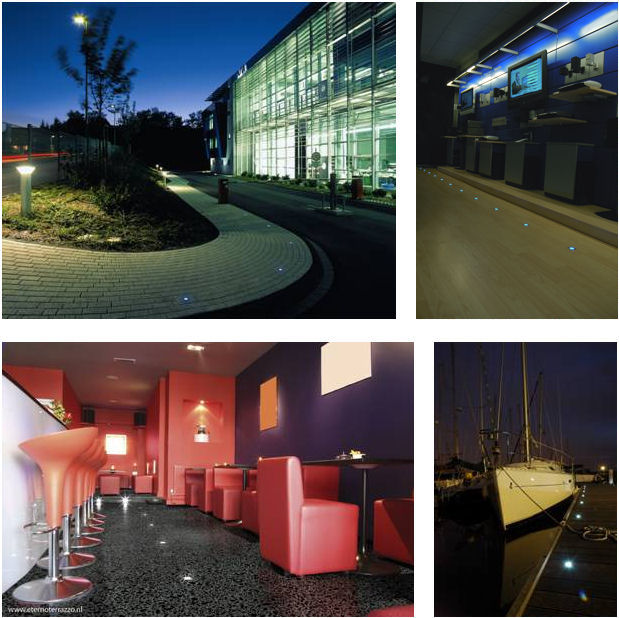 Eyeleds international introduces the PowerEYE® and ColorEYE® at the Domotex in Hannover
With its professional recessed LED (floor) fittings, Eyeleds® , the brand and business unit of the innovative lighting manufacturer Lighting Partner BV, mainly concentrates on indoor/outdoor floors/paving. With the introduction of its new version -PowerEYE®- Eyeleds® is providing the (garden) architecture industry and interior designers with completely new design opportunities.
Eyeleds® is successfully sold all over the world in over 86 countries and the product line keeps expanding with new great design possibilities. Also the development of the Eyeleds ultra flat LED (6,5 mm / ¼ ") armature keeps on innovating. Great examples are the introductions of the Eyeleds® PowerEYE® and ColorEYE®.
From 13 till 16 January Eyeleds International is proudly represented at the prestigious and leading flooring fair Domotex in Hannover. At the ContractWorld (Hall 4, stand D39) Eyeleds will be represented with an impressive stand together with Eyeleds partners Villeroy & Boch and Stein & Design. Many application possibilities will be shown, for example the programmable version of the Eyeleds® ColorEYE® and the great functional lighting possibilities with the Eyeleds® PowerEYE®. A few examples of projects in which Eyeleds will be integrated this month:
• Chelsea soccer stadium Stamford Bridge (London)
• Nelson Mandela Freedom Park (South Africa)
• Haas Haus, Stephanplatz (Wien)

For more information about Eyeleds please visit the website www.eyeleds.com and if you visit the Domotex fair, please do not forget to get a cup of coffee at the Eyeleds stand!